Rep. Weber Receives Perfect Rating from IL Farm Bureau; Named Friend of Agriculture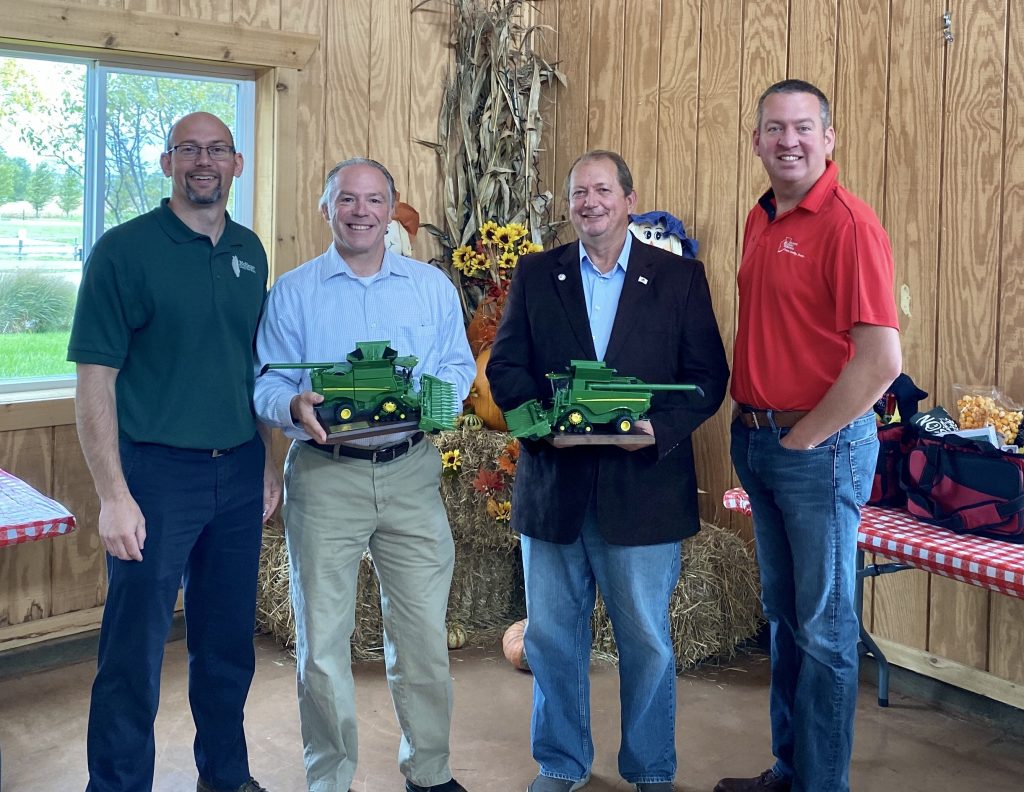 On Wednesday, I was named a "Friend of Agriculture" by the Activator Program of the Illinois Farm Bureau. I received a 100% rating for votes I took in 2019-2020 that affect the agriculture industry in Illinois. Greg Koeppen, Executive Director of the Lake County Farm Bureau, and Dan Volkers, McHenry County Farm Bureau Manager, presented me with the award at the Richardson Farm in Spring Grove. It is an incredible honor to receive this award from leaders from the Lake and McHenry County agricultural community, and very fitting that this award was received at the Richardson Farm, one of northern Illinois' most famous farms- known for it's corn maze and Christmas trees. Efforts that support agriculture are very important in Illinois, and as a legislator I am committed to helping farmers with their goal of improving food production practices and ensuring a plentiful and safe food supply.
The award is based on each legislator's voting record in the 101st General Assembly on issues facing the farming community. There were 11 bills considered under this year's voting criteria, including legislation on the gas tax, the graduated income tax, and legislation affecting ethanol plants and the department of labor. Legislators receiving this award recognize the far-reaching benefits of Illinois' agricultural products and the important role farmers play in providing quality food, fiber and fuel for the state, nation, and world. In existence since 1014, the Lake County Farm Bureau is one of the oldest bureaus of its kind in the United States. I'm shown in this photo with Dan Volkers, Senator Craig Wilcox (who also won the award), and Greg Koeppen.
Early Voting Underway Across Illinois
Locally, early voting is now available at the County Clerk's offices in Lake and McHenry Counties. Through Oct. 19, early voting is limited to the two clerk's offices, but on Oct. 19 early voting will be expanded to several other locations. Information about early voting can be found at the following links:
House Special Investigating Committee Hears from ComEd
The House' Special Investigating Committee (SIC) into the conduct of Speaker of the House Mike Madigan held it's second meeting this week. The bipartisan panel heard over three hours of testimony from ComEd and Exelon's Chief Compliance Officer David Glockner (a new hire; he was not working for ComEd/Excelon while the illegal activities were taking place). Glicker was led through the Deferred Prosecution Agreement (DPA) between Commonwealth Edison and the US Attorney of Northern Illinois, and one by one, he reiterated each statement of fact in the DPA as being true. He also admitted that the entire DPA is built around payments, jobs and a seat on the ComEd Board that were used in a bribery scheme to gain favor with Mike Madigan.
While ComEd came forward voluntarily to provide testimony, Mike Madigan and other key individuals named in the DPA declined to voluntarily appear before the SIC. At the end of the meeting, a Republican member of the committee attempted to gain committee approval to issue subpoenas to Speaker Madigan and others named as key players in the DPA. Even though the committee has subpoena powers, SIC Chair Chris Welch used his position on Thursday to block the issuance of subpoenas to Madigan and several others with intimate knowledge of the nine-year bribery scheme. The committee is expected to meet again to gather testimony from former ComEd Executive VP of legislative affairs Fidel Marquez, who pled guilty to bribery and conspiracy charges Tuesday in federal court for his role in the ComEd/Madigan scheme.
Rep. Tom Weber Receives "Champion of Manufacturing" Award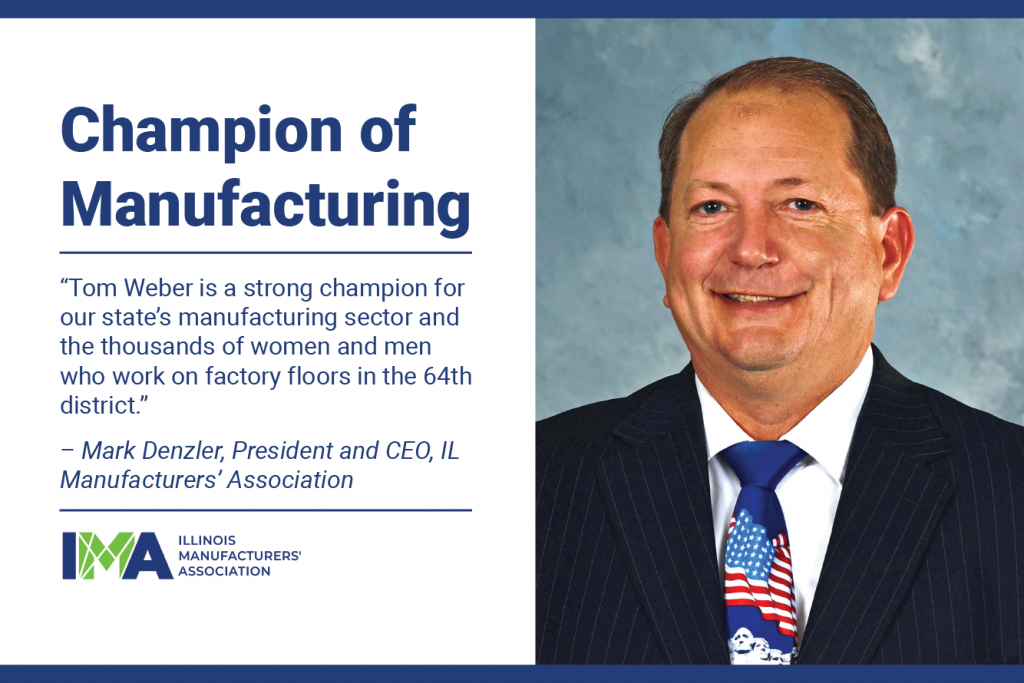 I'm proud to announce that I have been named a "Champion of Manufacturing" by the Illinois Manufacturers' Association (IMA) for votes taken that impacted the manufacturing sector in 2019-2020. Illinois Senators and State Representatives were scored on their votes on 34 different bills that were brought forward during the 101st General Assembly, and those receiving a score of 80% or higher received the award. I received an 88% rating on the IMA legislative report card.
Upon announcing the award recipients, IMA President & CEO Mark Denzler said, "Tom Weber is a strong champion for our state's manufacturing sector and the thousands of women and men who work on factory floors in the 64th district. As a first-term legislator, he understands the importance of a strong manufacturing economy. He supported the reinstatement of the Manufacturers Purchase Credit, the elimination of the Corporate Franchise Tax and the creation of the Blue Collar Jobs Act, which collectively resulted in a $300 million tax cut for employers. He also voted against several costly and burdensome taxes and regulations."
The IMA is a not-for-profit trade association for Illinois manufacturers. Founded in 1893, it is the oldest and largest statewide manufacturing trade association in the United States. The IMA's mission is to strengthen the economic, social, environmental and governmental conditions for manufacturing and allied enterprises in the state of Illinois, resulting in an enlarged business base and increased employment. Click here to view the full scorecard and a list of bills that were judged.
Rep. Tom Weber Sponsors Legislation to Assist Families Saddled with Remote Learning Costs
With very little notice this summer, parents and guardians had to scramble to create an at-home learning environment for their kids. For many, that meant purchasing additional computers or tablets, improving internet access, and in some cases hiring tutors. In an effort to alleviate some of the costs families have had to absorb due to remote learning, I'm proud to be sponsoring legislation to provide a tax credit to parents who have had to spend money on educational equipment.
HB 5834 creates an income tax credit for parents and legal guardians of school-age students for educational expenses that result from remote learning during the COVID-19 pandemic. Eligible expenses include additional computers, printers, internet routers, tutors, learning facilitators and certain childcare expenses. Additional tax credits would be extended to teachers with children to incentivize teachers to work at their schools rather than stay home with their kids. I will be pushing for this bill's passage during the upcoming fall veto session.
Illinois State Police Implements Emergency Rules for Current FOID Card and CCL Owners
My legislative office continues to receive calls and emails from frustrated constituents who have experienced significant delays with FOID card and CCL renewals and with new FOID or CCL applications. These delays are unacceptable, and I view them as a direct infringement on people's Second Amendment rights.
The Illinois State Police has issued new emergency rules to help firearm owners with expired Firearm Owner Identification (FOID) cards and Concealed Carry Licenses (CCL), but the rules do nothing to assist those who have followed proper procedures for obtaining a first-time FOID card or CCL. Still, the new rules should help firearm owners facing lengthy delays for renewals. New rules include:
FOID cards and CCL licenses for people who have submitted a renewal application will remain valid during the duration of the state's disaster proclamation and for a period of 12 months following the termination of the disaster, even if their renewal application is/was not submitted prior to expiration.
CCL licensees will not be required to immediately submit proof of three-hour training with their CCL renewal application.
CCL licensees will need to submit proof of their three-hour renewal training within 12 months following the termination of the state's disaster proclamation in order to maintain the validity of their CCL license.
$5 Million in Grants Available to Livestock Producers
The Illinois Department of Agriculture (IDOA) has announced the availability of $5 million in business recovery funding for livestock producers and small meat and poultry plants suffering interruptions as a result of the ongoing COVID-19 pandemic. Over the past six months meat and poultry plants across the country have been impacted by the pandemic, as reduced sales resulted in a slowdown of processing livestock and forced many Illinois farmers to incur additional costs.
The new funding opportunity is part of the state's Business Interruption Grants program (BIG), which leverages federal CARES Act money to help small businesses statewide offset losses incurred in connection to COVID-19. Online applications are available now through October 31, 2020 at https://apps.agr.illinois.gov/AGR-CARES/.
Drivers' License Deadlines Further Extended; No Extension for Vehicle License Plates
Due to challenges Illinois drivers are having with renewing expired driver's licenses, the Secretary of State has announced a further extension to the renewal deadline. Expired driver's licenses will now remain valid  until February 1, 2021. The extension also applies to non-driver personal ID cards. Illinois drivers' licenses had previously been extended until November 1, 2020.
The small decal stickers that Illinois drivers attach to their motor vehicle license plates to show that the car has been licensed are separate from drivers' licenses. These car license plates and decal stickers have also been extended, but only until November 1, 2020, and no further decal sticker extensions will be granted. The Secretary of State's office says that almost all Illinois motor vehicle decal stickers are ordered online or by mail, and the current pandemic is not changing the way these stickers are purchased and delivered.
Trout Fishing Season to Open Oct. 17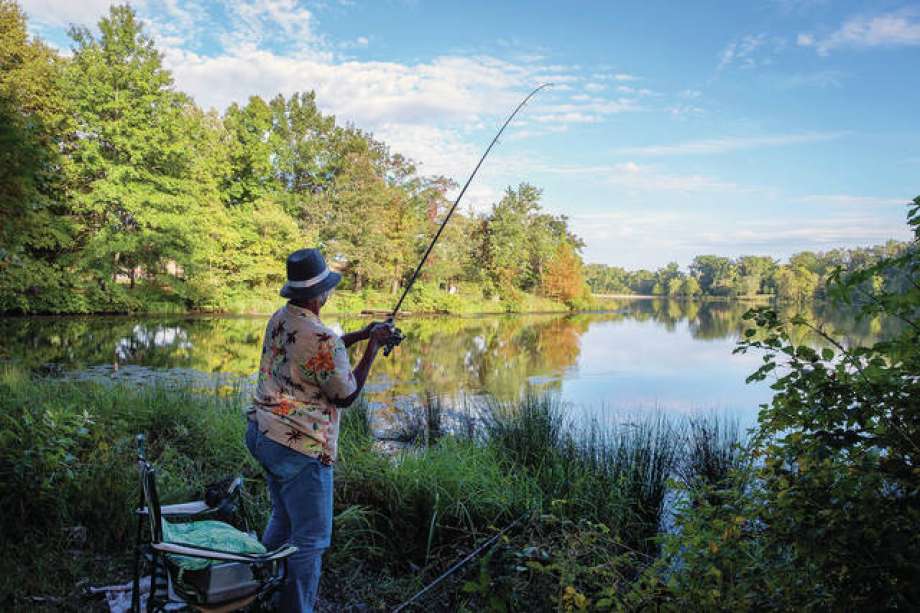 The Fall Trout Fishing Season opens Saturday, Oct. 17 at more than 50 ponds, lakes, and streams throughout the state. An early opportunity at select trout sites – the Fall Catch-and-Release Fishing Season – will open Oct. 3 at locations marked with an asterisk on this list. No trout may be kept during the catch and release fishing period, but anglers can keep trout after the opening of the regular season beginning Oct. 17.
All anglers — including those who intend to release fish caught before Oct. 17 — must have a valid fishing license and an Inland Trout Stamp, unless they are under the age of 16, blind or disabled, or are an Illinois resident on leave from active duty in the Armed Forces. The daily catch limit for each angler is five trout.
Secretary of State and IL Treasurer Announce Extended Waiver of E-Check Payment Processor Fee
The Illinois Secretary of State and IL Treasurer have partnered with National Cash Register (NCR) to remove the e-check payment processing fee through the remainder of 2020. Since the payment processor fees were first waived on May 5, the number of transactions conducted online and paid with e-checks have nearly tripled compared to the same period in 2019. The e-check payment processor fee will be waived for the following online services:
renewing a vehicle registration
obtaining a duplicate driver's license or ID card
renewing a driver's license with the Safe Driver Renewal program.
Paying with an e-check is simple. Customers visit www.cyberdriveillinois.com to begin the transaction. Then you'll be automatically connected to NCR where they provide their routing number and bank account number on the secure payment page. After the transaction is completed and the e-check is verified, the Secretary of State's office will begin the process of mailing the vehicle registration sticker or DL/ID card.